&nbsp/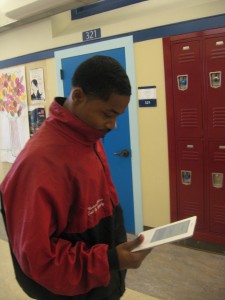 Today I was doing some number crunching, and I calculated that the Kindle Classroom Project costs about $40 per student per year.
The money, donated by generous contributors, goes to maintaining the 156 Kindles and to building the 501-title Kindle Library via student requests.
But if you ask a student, they'd tell you a slightly different version of where the money goes.
This is what they'd say:
+ The money lets them read whatever book they want whenever they want wherever they want. Students get to take their Kindle home with them.
+ The money lets them reclaim their love of reading. Students read an average of 18 books last school year on their Kindle.
+ The money lets them learn about themselves and the world without depending on others. Students have access to 500 high-quality books.
+ The money tells students that people care about them and their reading lives. Students want people to believe in them.
I am asking you to join the Kindle Classroom Project by making a $40 donation to help a student reclaim their love of reading in 2014-15.
Would you like to?
If so, the easiest way is via PayPal, though there are many ways to contribute. Please click on the button below and make a generous donation.